Part of the Gaming.moe mission, as I've said before, is to look at and review games that would likely get passed over by bigger review sites for various reasons. Visual novels as a whole are generally passed up for reviews on many big outlets, and that goes doubly so for visual novels that have some element that puts them way out of mainstream accessibility. In the case of No, Thank You!, which I reviewed a while back, that element was gay romance and explicit content, but in the case of Amnesia: Memories, it's because it's an otome game targeting a primarily female player demographic.
I've written about otome games in the past – it's a genre that interests me on many levels. Since I wrote that piece a few years back, we've started to see a more steady flow of localized otome games come westward, particularly on mobile platforms. They seem to be doing well, as the labels Shall We Date? and Voltage had a very noticeable presence at this year's Anime Expo, MangaGamer's bringing over OzMafia!!, and there are hints that Sekai Project might be looking at otome titles as well.
Japanese publisher Idea Factory does some of the most well-known otome games on the market under their Otomate label, some of which have been licensed to US publishers like Aksys for translation. Since Idea Factory now has an official US branch, however, they have an opportunity to publish English versions of more of these games themselves – an opportunity they seized with the English release of Amnesia: Memories on PS Vita and Steam recently. Since IFI kindly provided me a review code for the Vita version, well, I certainly wasn't going to pass up a chance to take a closer look at one of Otomate's most enduring titles.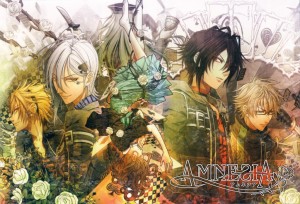 Buckle up, readers, it's time to mack on some digital boyfriends!