I've backed a fair few games on Kickstarter, and my general rule of thumb is "never back for more than you're willing to lose if the project goes south." That usually means I'm pledging something like $10-20 dollars. Some of these games have delivered, some have gone into the project mismanagement hell small-team games the find crowdfunding success often stumble into. If the latter happens, I'm not out enough money to make a fuss, and if the former happens, cool, I helped a game be a thing!
But if I could go back in time and edit any of my pledges, I'd give a whole lot more money to Hypnospace Outlaw.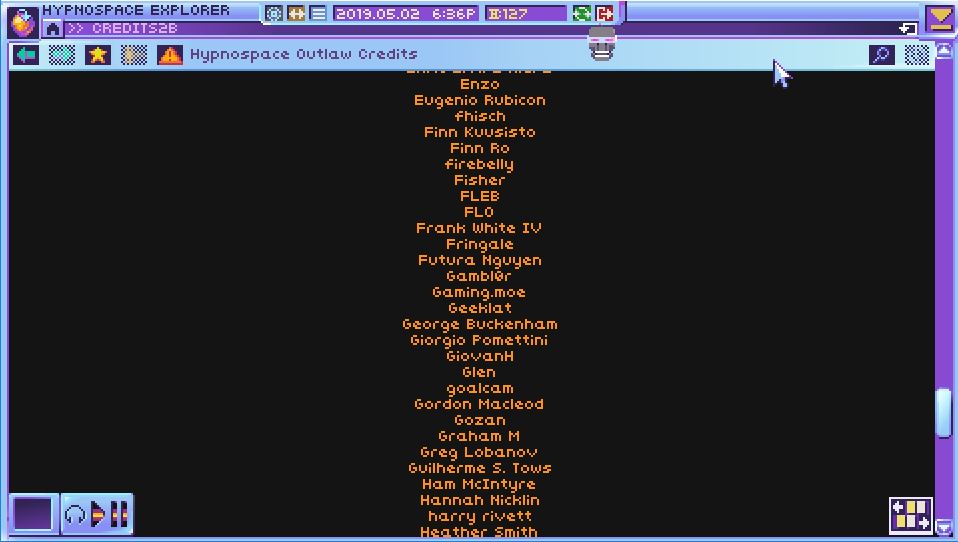 Man, Hypnospace Outlaw. What a game this turned out to be! The end product wound up significantly different from the initial Kickstarter pitch: it changed from a weird action-game set in a 90s-style internet to an exploration/adventure game over the course of its creation. That was absolutely the right call, as the story (and, perhaps more importantly, all of the substories of the individual Hypnospace denizens) seen through exploring and interacting with the faux-online-service is a wonderful trip. I'm still working on finding all of the secrets of Hypnospace, and so many elements of the game continue to stick with me — I frequently find myself singing Chowder Man and Fre3zer songs to myself at strange times.
But one thing in particular about Hypnospace Outlaw really stirred a lot of emotions in me. I've been using various online services for a very long time, starting with the likes of Prodigy back in 1992 when I was but a preteen. I've seen many online communities spring up, thrive, and then fade away, a cycle that always seems eerily similar every time it happens.
When I played Hypnospace Outlaw, I saw all of the hallmarks of another online community destined for death. No, I'm not talking about the event that launches players into the game's final leg: it's very clear that the writing was on the wall for Hypnospace long before that happened. In fact, Hypnospace is doomed from the outset of the game, and you watch it collapse before your very eyes.
But while Hypnospace might have been fictional, the story it tells of a fractured, angry community and the corporate interests it's at odds with are very real indeed.
WARNING: HEAVY SPOILERS FOR HYPNOSPACE OUTLAW PAST THIS POINT!
Continue reading