Man, 2018 was quite a year for games, wasn't it? Of course, it felt like everything amazing got overshadowed by The Cowboy Game coming out at the tail end of the year. You know, the game where if you dare to say anything slightly negative about it, a horde of people was come in and shit up your comments and Twitter mentions.
I mean, clearly the game is amazing, right? After all, no other game this year had as much CONTENT as Cowboy Game. A huge, explorable world! Numerous player and NPC interactions! Realistic horse testicles that some poor graphics rigger in crunch time likely had to miss his daughter's birthday party to create!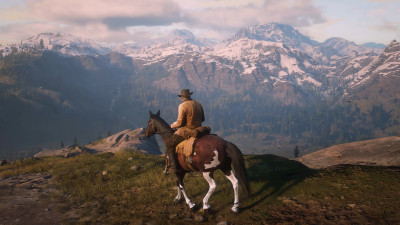 But it's like… whenever I hear someone I know talk about Cowboy Game, they never seem to be having that much fun with it. They want to play it because it's the current gaming zeitgeist, but when they talk about doing stuff in the game, it's never with the sort of excited fervor you hear when someone is describing something they are really, truly passionate about. It just feels like they're experiencing The Game With the Most CONTENT because that's what you're supposed to do unless you want your gamer cred to be shot. Sometimes I wonder if all the vocal fans are genuinely enjoying that game, or convincing themselves that they are (and posting incessantly about it) because they feel like they have to.
There's so much "well, everything about playing this kind of sucks, and the structure is bad, but if you bear with it for 40 hours…" you'd think they were talking about Final Fantasy 13 during the height of that game's fan rage

— JEFF♪♪@TIRED (@botoggle) December 30, 2018
CONTENT, in all caps, is what I think of when you've got a game that just has a lot of stuff in it for no reason other than to make the game bigger, longer, more epic!!!1! Open world games are often the ones that feel the most CONTENT bloat, but they're certainly not the only ones: we've all played a JRPG that went way overboard with the sidequests, an action game with levels that are pure padding, and tacked-on systems like crafting, levelling, and skill trees in games that don't really need them. CONTENT is, theoretically, supposed to keep you engaged, but often does the opposite: it wears you down, leaves you longing to get back to the fun parts, and can even make you feel spiteful towards a game for wasting your time with unsatisfying, superfluous empty bullshit.
So folks, let's talk a bit about CONTENT, why it's present in games, and how games can be better about giving the player a lot of stuff.