Hey guys, it's almost election day!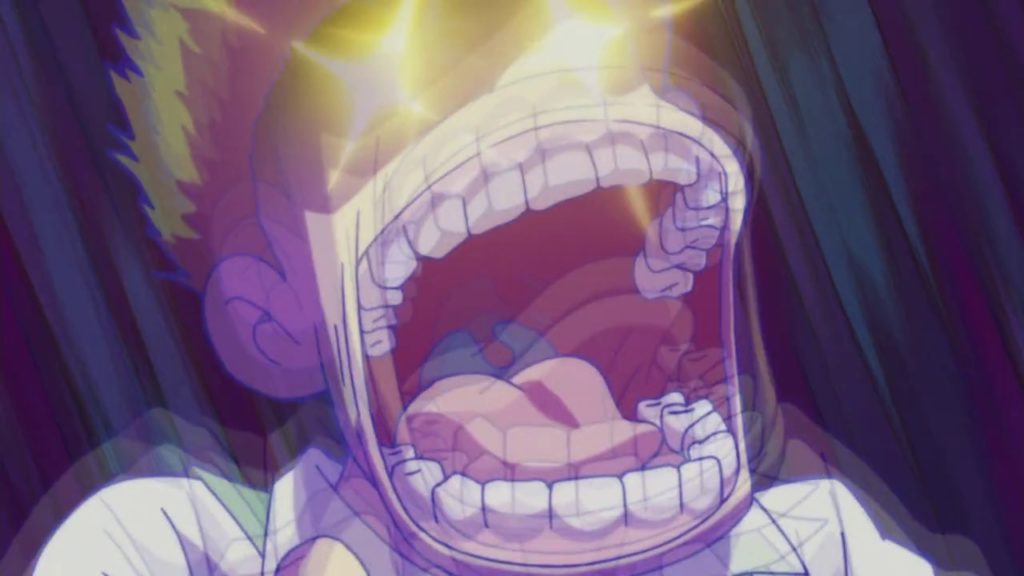 Yeah, that's more or less my reaction to the shitshow of US politics, too. But instead of depressing ourselves, let's look at the polls of yesteryear that truly mattered. I am, of course, talking about the favorite character polls published in seminal Japanese arcade gaming journal Gamest from 1987 through 1991.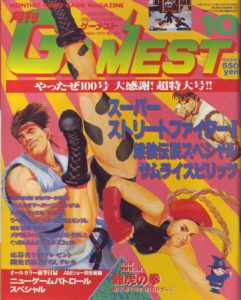 Gamest, for those unfamiliar, was an early Japanese game magazine whose focus was almost entirely on the culture of arcade gaming. The magazine was founded in 1986 and enjoyed plenty of success, going from bimonthly to monthly issues fairly quickly thanks to strong fan response. When Street Fighter II rolled around and became a phenomenon, however, the magazine became even bigger, eventually going biweekly at the height of the fighting game boom. Bolstered by the strength of arcades in the mid-90s, the publisher, Shinseisha, expanded briefly into spinoffs like Gamest EX (console games) and Comic Gamest, and even had a store focused on selling arcade game-related merchandise called Marugeya. But everything ended rather abruptly in 1999 with Shinseisha's bankruptcy, killing off the magazine and other business operations tied to it. (Several former Gamest staff migrated to publisher Enterbrain to create Arcadia magazine as a successor, which would encounter its own abrupt death many years later.)
The magazine had a ton of passionate, talented writers throughout the years: as the Japanese Wikipedia article on the magazine notes, many of Gamest's early writers came from VG2 and VG3, early arcade gaming doujinshi publications that were the contemporaries of Satoshi Tajiri and his Game Freak doujinshi. Graphic artist Han, who's best known for his work at Treasure, was part of their writing staff at one point, and artist Mine Yoshizaki cut his teeth doing various art pieces for the magazine.
Amongst all of the strategy guides, interviews, reports, high score tables, and special features, however, every Gamest issue would contain a section called "Gamest Island," which was dedicated to reader submissions. In early 1992, Gamest collected all of its Island sections up to that point into one giant book, called Gamest Island Mokushiroku.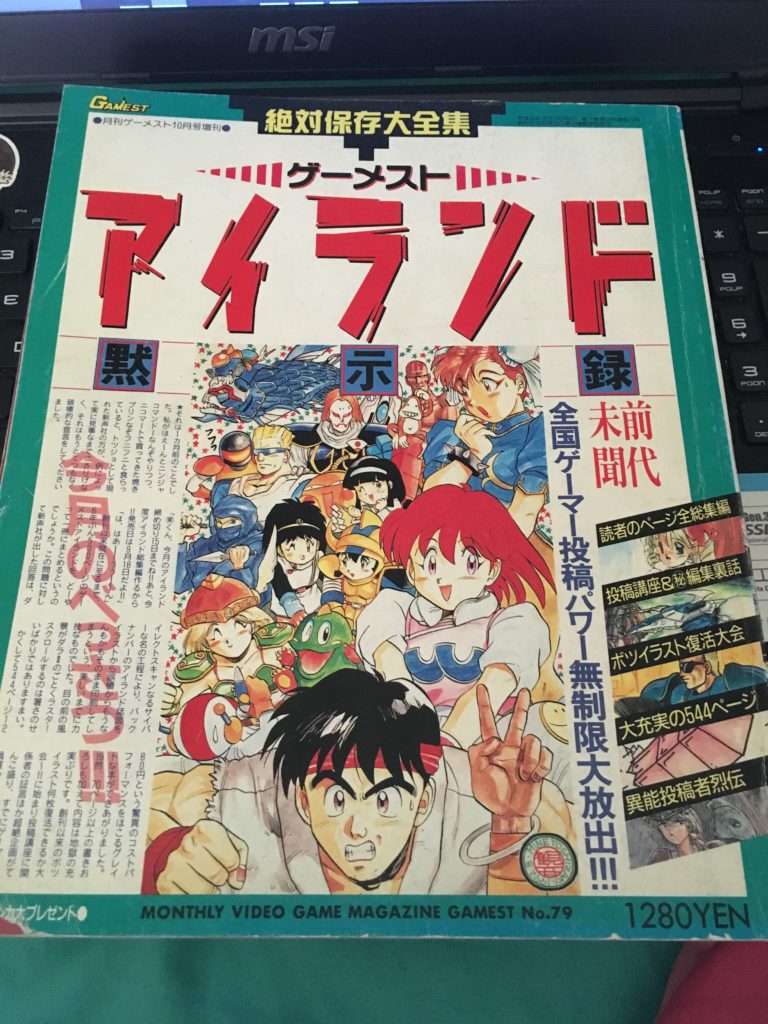 One of my current fixations is trying to snag cheap Gamest issues when they pop up for media preservation purposes, as the Japanese arcade scene of the 80s and 90s is a fascinating subculture that the West knows next to nothing about. When I saw this book for a good price, I jumped on it — and when I got it, I wasn't disappointed in the content. This tome has 500-some pages of reader submissions that give a candid look into the Japanese arcade culture of the late 80s and early 90s from the very people who were the most passionate about it. There's tons of art, plenty of letters, lots of terrible jokes, a bunch of reader-made "How much of a gamer are you" polls, parody game ideas, and even odd bits like someone's Night Striker fanfiction. There are early memes and trends that show up, heated opinions (you start seeing some anti-Street Fighter II art and sentiment after the game blows up in popularity), and even in-column conversations between readers: one issue features a woman writing in to complain about men treating her badly at the arcade, the next issue has a guy sending in a drawing he did to support her, and the issue after that has her replying with more art as a thank-you. (It really seems charming and quaint compared to internet interactions today, especially since nobody got called a beta cuck.)
Every year Gamest would also hold reader polls on various subjects — and among them were various "favorite character" polls. From 1987 onwards, Gamest would have a reader-voted "favorite character" poll, along with rotating sub-polls in various other character categories. The results of each of these are also published in this book, and how the votes played out is pretty amusing: there are clear winners, some head-scratchers, and some utterly bizarre picks that appear to be ancient memes and jokes from a bygone era in Japanese gaming. Let's take a look at how the polls went!
1987
1987 was a year of rapid advancement in arcade gaming. Among the big hits that year were Darius (which is copyrighted in 1986 but actually released early in 1987), R-Type, Genpei Toumaden, After Burner, and the original Street Fighter. So who do you think was that year's breakout character? Well, if you think about games that used then-novel technology, you're on the right track…
Athena (Psycho Soldier
Tarosuke (Yokai Dochuuki)
Kagekiyo (Genpei Toumaden)
Momo (Wonder Momo)
Sayo (Kikikaikai)
Silver Hawk (Darius)
Ninja-kun (Ninja-kun)
Bubblun (Bubble Bobble)
Opa-Opa (Fantasy Zone)
Mobi-chan (Capcom games)
That's right, it's Athena from Psycho Soldier, a game that made waves for having a full-vocal theme sung by "Athena" herself. Athena had already won over otaku hearts the year prior in her bikini-armor adventure, and now her pseudo-reincarnation was back with incredible character-defining vocals! What seems like a given for a modern game character in modern times was enough to propel Athena to the top of the charts here.
In second place we have Tarosuke from Youkai Douchuuki, whose general mischievousness (and his desire to see semi-nude ladies) no doubt resonated with arcadegoers of the time. Coming in third is Kagekiyo from Genpei Toumaden, who is undeniably a pretty friggin' awesome-looking spirit of vengeance. Fourth is Momo from the eponymous Wonder Momo, while Sayo from Kikikaikai turns up in fifth place.
The sixth spot on is where it becomes clear that the voters push the definition of "character" a little bit. #6 is the Silver Hawk ship from Darius, which, while iconic, isn't really a character as we think of them. At seventh is UPL's Ninja-kun, while Bubblun takes number eight. Opa-Opa and Mobi-chan are ninth and tenth, respectively.
There are four other favorite character charts here, too: Favorite female character, favorite male character, favorite mecha, and favorite monster.
Favorite female character
Athena (Psycho Soldier)
Momo (Wonder Momo)
Sayo (Kikikaikai)
Ki (Return of Ishtar)
Princess Alicia (Dragon Spirit)
The blonde girl in the Testarossa (Outrun)
Shouko (Super Real Mahjong PII)
 (Tie) Stella (Alex Kidd), Kashi Nanno (Ginga Ninkyouden), Tiat (Darius)
Favorite male character
Tarosuke (Youkai Douchuuki)
Kagekiyo (Genpei Toumaden)
Ninja-kun (Ninja-kun)
Yoshitsune (Genpei Toumaden)
Yacchan (Ginga Ninkyouden)
Ryu (Street Fighter)
Alex (Alex Kidd)
Gil (Return of Ishtar)
Amul (Dragon Spirit)
(Tie) Benkei (Genpei Toumaden), Joe (Ginga Ninkyouden)
Nothing too terribly goofy here for the most — the random blonde from Outrun's a little odd, as is Joe (based on the Ashita no Joe character) from Ginga Ninkyouden, a game that is basically a bunch of anime and manga references (and is infinitely more fun to watch than it is to play), but most of the characters on these lists make some degree of sense. This will change in further years.
Favorite Mecha
Silver Hawk (Darius)
Opa-Opa (Fantasy Zone)
Vic Viper (Gradius/Salamander)
Green Coronatus (Darius)
(Tie) Great Thing (Darius), F-14 (After Burner)
Testarossa (Outrun)
Red Rabbit (Rabio Lepus)
R-9 (R-Type)
Tenuky Chaud (Rabio Lepus)
Silver Hawk tops the list, though it's nice to see Coronatus on there. Love that Seahorse! And wow, Rabio Lepus seems more popular than I first thought. (This will come to irritate me next year.)
Favorite Monster/Etc.
Bubblun (Bubble Bobble)
Mobichan (Capcom games)
Yashichi (Capcom games)
Blue Dragon (Dragon Spirit)
Daruma (Ninja-kun)
Mini-dragon (Ninja-kun)
Moai (Konami)
Monmotarou (Youkai Douchuuki)
Pac-Man (Pac-Mania)
Hugger (Alien Syndrome)
I don't know about you guys, but I'm definitely a Bobblun girl. Blue's a better color, let's face it. Lots of love for those recurring Capcom power-ups, though. Is the Yashichi really alive, though…?
That wraps it up for 1987. Let's move on to 1988, another banner year for arcade gaming!
1988
Things in the game industry were starting to get really interesting. The Famicom market had matured (and Dragon Quest III was the hottest shit ever), the PC Engine was on the scene, and the Megadrive was about to launch. While there wasn't quite as much innovation in the arcade market in terms of presentation or hardware design as in previous years, we did see a lot of important games released that would push established genres into new territory. So what game character was in the hearts of arcadegoers that year? The answer might surprise you!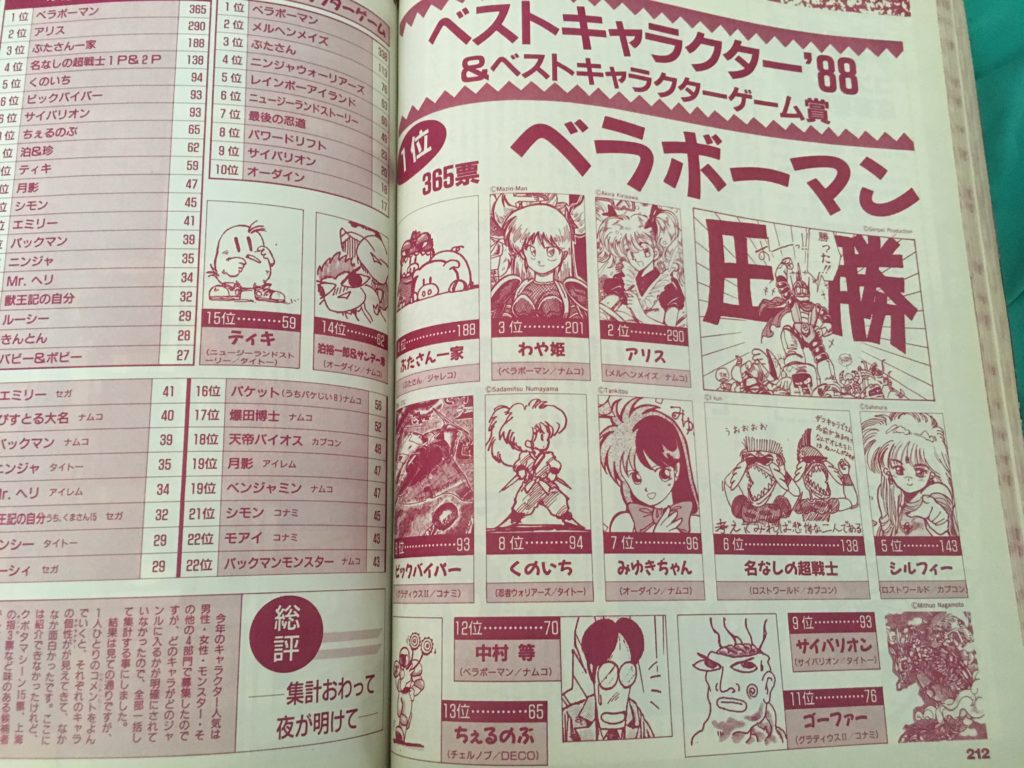 Bravoman (Bravoman)
Alice (Marchen Maze)
Waya-hime (Bravoman)
Buta-san family (Butasan)
Sylphie (Forgotten Worlds)
Nameless Soldiers (Forgotten Worlds)
Miyuki (Ordyne)
Kunoichi (Ninja Warriors)
(tie) Vic Viper (Gradius II), Syvalion (Syvalion)
Gofer (Gradius II)
Nakamura (Bravoman)
Chelnov (Atomic Runner Chelnov)
Yuuichirou Tomari and Sunday Chin (Ordyne)
Tiki (The New Zealand Story)
Yup, it's Bravoman at number one! If you do know Namco's lanky hero, it's probably from the Turbografx port or from that odd Shiftylook web series a few years back. Bravoman was a game based around humor, particularly Japanese pop-culture and gaming jokes — hell, the hero's normal alter-ego – who is also on the chart – is modeled after Namco founder Masaya Nakamura — with the added bonuses that it had a sexy female rival and it didn't play like complete garbage. (Looking at you, Ginga Ninkyouden.) He really ran away with it, too, at 365 votes! Alice from Marchen Maze surprises me a little, because the game itself never seemed that popular — same with the Butasan pigs. Kunoichi from The Ninja Warriors has a surprisingly devoted fan following as well, given that she doesn't really do much besides stab people and occasionally show that sexy, sexy robot skeleton under her clothes.
Shopkeepers made a big splash this year, too: Miyuki and Sylphie are both on the list, which explains why they'd both be shopkeepers in Project X Zone down the line. In terms of favorite mecha, Syvalion and the Vic Viper tied it up, with Gofer trailing a bit behind. And hey, who doesn't love Chelnov?
The list is extended a bit this time around, encompassing 30 entries, and I'm just going to point out a few of the more amusing ones: Paccet (the Baraduke series aliens) at 16, Emily from Power Drift at 21, Pistol Daimyou from Bravoman (who'd eventually get his own spinoff game) at 25, Ninja at 27 (because, let's face it, Kunoichi looks a lot cooler), and "the Altered Beast Guy" at 29. (Apparently the bear form got some votes, too.)
The sub-categories for this year are a bit different, too. We still have best female characters, but now we also have Best Character Game, Best Enemy Characters, and Best "Supporting Actors" (i.e. helper characters/units). These replace last year's categories.
Best Female Character
Alice (Marchen Maze)
Waya-Hime (Bravoman)
Sylphie (Forgotten Worlds)
Miyuki (Ordyne)
Kunoichi (Ninja Warriors)
Emily (Power Drift)
(tie) Lucy (Power Drift) Nancy (Chase HQ)
Kana Aibara (Ordyne)
Katashirakawa sisters (Rabio Lepus)
Wait, how the hell did the girls from Rabio Lepus get on here? Didn't they get their shot at glory last year? Well, maybe I'm just bitter, because sitting unranked one vote beneath them is true retro waifu Rika Midorikawa. Youkochan from UFO Senshi Youkochan also got robbed of getting officially ranked. All I can surmise is that Gamest voters didn't like girls who actually get shit done.
Well, okay, Kunoichi's on there, but she's an emotionless murder machine in female form. Does she really count?
Also, I'm guessing that the Lucy on here is Power Drift Lucy and not Dynamite Dux Lucy, based on her appearance in the "playable character" ranking.
Best Character Game
Bravoman
Marchen Maze
Butasan
Ninja Warriors
Rainbow Islands
New Zealand Story
Ninja Spirit
Power Drift
Syvalion
Ordyne
Is… Syvalion really a character game? Well, I guess it is pretty story-heavy, but you never even see your dude. Hell, he's only given an identity in a handful of the endings.
Best Player Character
Bravoman
Alice
Butasan Family
Nameless Soldiers
Kunoichi
(tie) Vic Viper, Syvalion
Yuuichirou Tomari and Sunday Chin
Tiki
Tsukikage (Ninja Spirit)
Simon Belmont (Haunted Castle)
Emily (Power Drift)
(tie) Pac-Man, Ninja
Mr. Heli (Mr. Heli)
"The Altered Beast Guy"
Lucy (Power Drift)
Kinton (Kuri Kinton)
Bubby and Bobby (Rainbow Islands)
Best Enemy Characters
Waya-hime
Gofer
Dr. Bakuda (Bravoman)
Bios (Forgotten Worlds)
Benjamin Ookubohigozaemon (Bravoman)
Pac-Man Ghosts
Moai
Pistol Daimyou
 Option Hunter (Gradius II)
Black Bravoman (Bravoman)
You do not want to know how long it took me to figure out the last name of #4, Jeezus. Reading name kanji's already hard enough. (He's the weird heavy metal ninja guy, FYI.)
Best "Supporting Actors"
Paccet
Pistol Daimyou
Extra-large Himuro Manju (???)
Tenuky Chaud (Rabio Lepus)
Option (Gradius series)
Mobi-chan (various Capcom)
The World Stadium Baseball Team
Satellite (???)
Usagi King (???)
(tie) 10,000 Zenny (Forgotten Worlds), Homing Laser (???), the Ninja Warriors dogs, Barrier Usagi (???), Paramecium (Forgotten Worlds)
I'll be honest, some of these are so generic-sounding that I'm not entirely sure where they're from. I'm willing to bet #3 is Bravoman and that the Usagi King and Barrier Usagi are from Rabio Lepus, but everything else is kind of a mystery.
That's it for 1988. What storms are brewing for 1989?
1989
Japan got its first taste of Tetris this year when Sega Tetris hit arcades in a huge way. The game dominated arcades and brought in players of all stripes, becoming a hit that appealed to audiences that might not normally play arcade games. This was also the year that Capcom started really pushing their CPS1 hardware, showing how technologically advanced it was compared to other games on the market. Meanwhile, Namco and Taito continued to crank out impressive hits. With so much good stuff hitting the market, which character would emerge as king (or queen) or the arcades?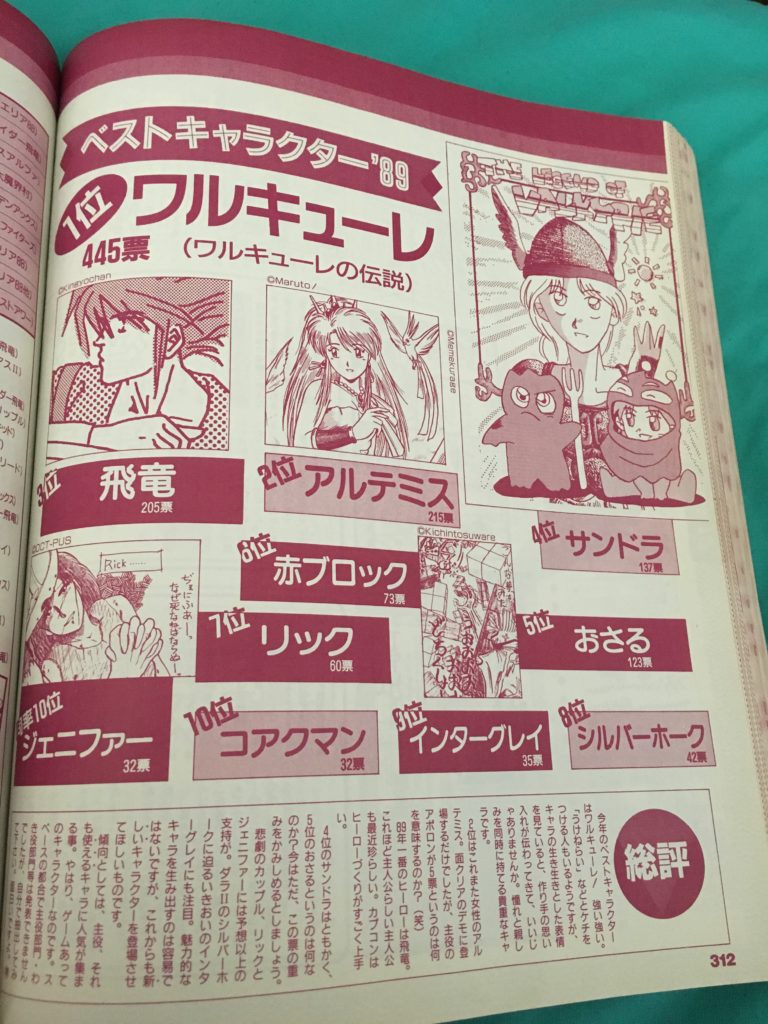 Valkyrie (Legend of Valkyrie)
Artemis (Phelios)
Hiryu (Strider Hiryu)
Sandra (Legend of Valkyrie)
Monkey (Sega Tetris)
Red block (Sega Tetris)
Rick (Splatterhouse)
Silver Hawk (Darius II)
Inter Gray (Night Striker)
(tie) Jennifer (Splatterhouse), Koakuman (Valkryie)
We're starting to see votes amassing this year for some, uh… unusual choices. Legend of Valkyrie hit arcades in a big way, being perhaps the most well-remembered example of that time period when arcade games flirted with action/RPG style mechanics in games. (I would also say that the visuals of Valkyrie also had a big impact on overhead-view action RPGs down the line, particularly Link to the Past.) It was a neat game and it starred a pretty woman, so of course the arcade otaku were all over it. But hey, look at Hiryu in third place! I kinda wonder if the arcade-going ladies at the time took a shine to him and his handsome looks. I certainly did!
The Silver Hawk reappears in the rankings thanks to the release of Darius II, and both Rick and Jennifer from Splatterhouse crash the party, making this another pretty Namco-heavy list. Good to see the Inter Gray getting love, though.
#5 might require a bit of explanation – there's an instruction screen in Sega Tetris that describes the game's rules, and the character that delivers the instructions is a strangely realistic-looking chimpanzee. He also appears when you game over.
The Red block, as you might notice from the above clip, is the straight line tetromino. This coloration is also seen in the TGM series.
This year, the favorite character list expanded to seventy-five entries. I'm not going to list all of them, but there are several worth making note of. Celia from obscure Jaleco shooter Plus Alpha ranks in at #14, while Arthur from Daimakaimura and Tyris Flare are both one below her. (How is Arthur not higher? … oh, right, the Tetris bloc voted. HAH, see what I did there???!) YAMATO from Darius II crashes in at #23, while Atomic Robo-Kid and Robocop are among the five-way tie at #25. Gilius from Golden Axe is somehow tied with sentient tentacles from X-Multiply and three others at #30, while we find "Ninja" from Ninja Gaiden/Ryuukenden at #35. Remember when Ryu Hayabusa didn't have a name?
Further down on the list is where things get weirder: The "Soulful Obaachan" (who I think might be that bizarre, and, uh, racially insensitive boss) from DJ Boy is at #41 alongside Tonma. At #52 we have, among other characters, the Tomcat from Area 88/UN Squadron, Demon Kogure from DJ Boy, and…the dominatrix from Crime Fighters. Yep. Lumina from Namco's obscure game Rompers finishes out the list.
They went considerably less crazy with the side polls this year: there's only one, titled "Best Group Award."
Best Group Award
Tetris Blocks
The heroes (Gain Ground)
Foreign Legion (Area 88/UN Squadron)
The Huge Battleship Fleet (Darius II)
The "Abnormal Group" (Crime Fighters)
The Liu Bei brothers plus one (Tenchi wo Kurau/Dynasty Wars)
Uroboros (Strider Hiryu)
Helper (Daisenpuu/Twin Hawk)
The World Stadium baseball teams
Dinosaurs (Prehistoric Isle)
"Group" can sure encompass a lot of things, can't it? Quite the mix of stuff we have here: gangs of people, inanimate objects, giant battleships, and, uh… dinosaurs. I guess they are a group of creatures, huh?
That's it for 1989 – a fair bit shorter this year, but no less interesting.
1990
1990 marks the move to a single, massive favorite character poll, with no sub-polls in sight. There wasn't a Tetris-like phenomenon this year that ushered in an entirely new game genre, but there was a game that would redefine a well-established genre for a new era and introduce a character fans worldwide still love to this day from a developer who would have an even bigger hit the year afterwards. Who won this year's contentious vote for office?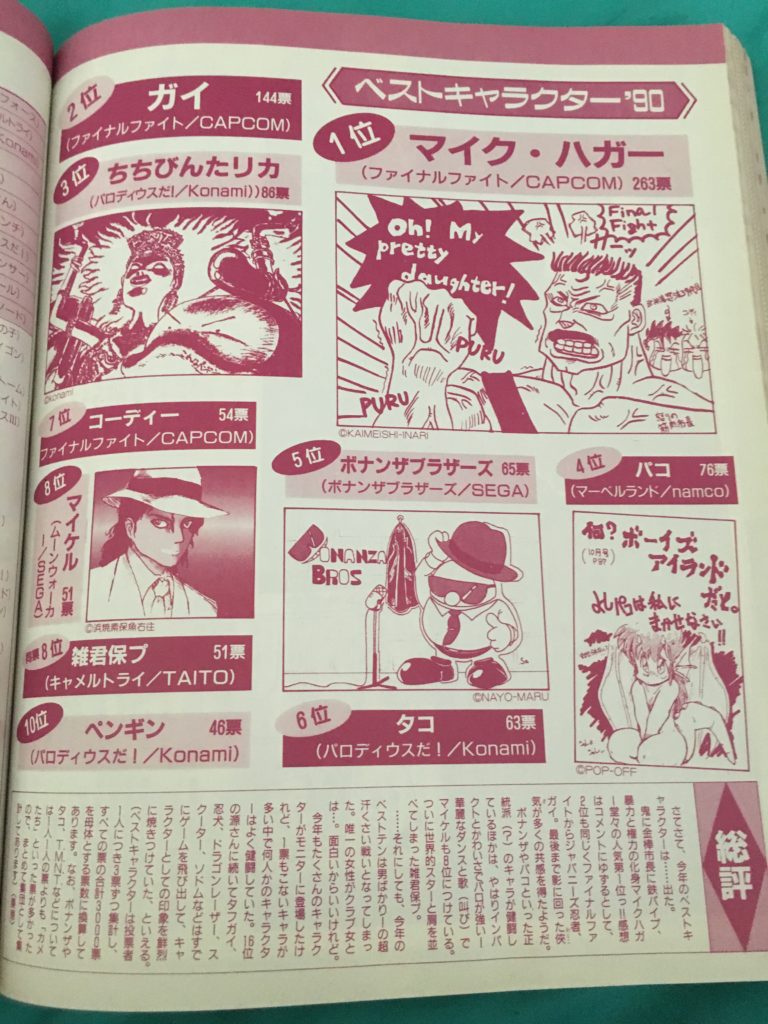 Mike Haggar (Final Fight)
Guy (Final Fight)
Go-go Dancer (Parodius)
Paco (Marvel Land)
The Bonanza Brothers
Octopus (Parodius)
Cody (Final Fight)
Michael Jackson (Moonwalker)
Zack'n Pop (Cameltry)
Penguin (Parodius)
The people have spoken — Mike Haggar is the one true Mayor of Arcade Gaming, now and forever! Guy's second-place finish is impressive, too, while Cody languishes behind at seventh place. Nobody likes Cody. (Except for Murph, I guess.)
Usually we see a lot of cute and/or sexy girls rocking these lists, but the only one in the top ten this time around is the one thing everybody remembers about Parodius: the gigantic go-go dancer whose routine you have to weave your craft around. The allure of Haggar's big, beautiful muscles could turn heads away from even those sequin-adorned hips. Paco's an interesting one: you don't see a lot of cute boys on these lists. With him and Guy on there, though, I'm wondering if the fujoshi arcade invasion that would come to a head with King of Fighters had already begun. The Bonanza Brothers make a nice representative for Sega on here, as does MICHAEL.
Zack'n Pop is another one that requires a bit of explanation. Zack'n is a manga artist whose odd, elliptical-eyed caricatures were a common sight in early Gamest issues. He wound up doing some gaming-related manga (a World Heroes 2 comic adaptation, among others) and is still active today. The big-eyed character that's selectable in Cameltry was his calling card back in the day. His appearance on the list is no doubt due to built-in appeal.
There are fifty-five entries for 1990's Best Character list, so let's once again point out some of the, uh, highlights. It seems like this was the year where people realized that if they could round up enough of their arcade-going buddies to send in some ballots, they could get some really weird stuff on the list. #11 is Hiromi from Burning Force, who I'm surprised wasn't a bit higher, trailed at 13th with a tie between the Vic Viper from Gradius III and… the eliminate-any-color gem from Columns. Yes, really. Santos from Trio the Punch puts in an all-important appearance at 17th, a few votes above Ninja Dog from Shadow Dancer. Hipopo from Liquid Kids shows up at the 24th spot, followed closely by Scooter from Alien Storm at 25 and Poison at 26 (who tied with Nancy from Taito's SCI). The nameless cyborg soldier from Out Zone puts in an appearance at 36, barely edging out Jessica and the new R-9 from R-Type II at 40th. Both the sheep and the teacher from Trio the Punch appear at #43, but they're hardly the weirdest characters showing up near the end: the "dick robots" from Moonwalker thrust into the rankings at 48. (They had to censor part of the name, I should note – it's probably not the official enemy name, but what the hell else can you call them?) Somehow, both Chris Helper from NAM-1975 and the dog from Final Fight tie with the princess from Cadash for 51st place, rounding out the list.
Phew, that's another year down!
1991
We all know that something BIG came onto the arcade scene this year that changed things forever. As you might expect, the Gamest character polls reflected this game's incredible popularity. The question is, which of the game's warriors won the top honors?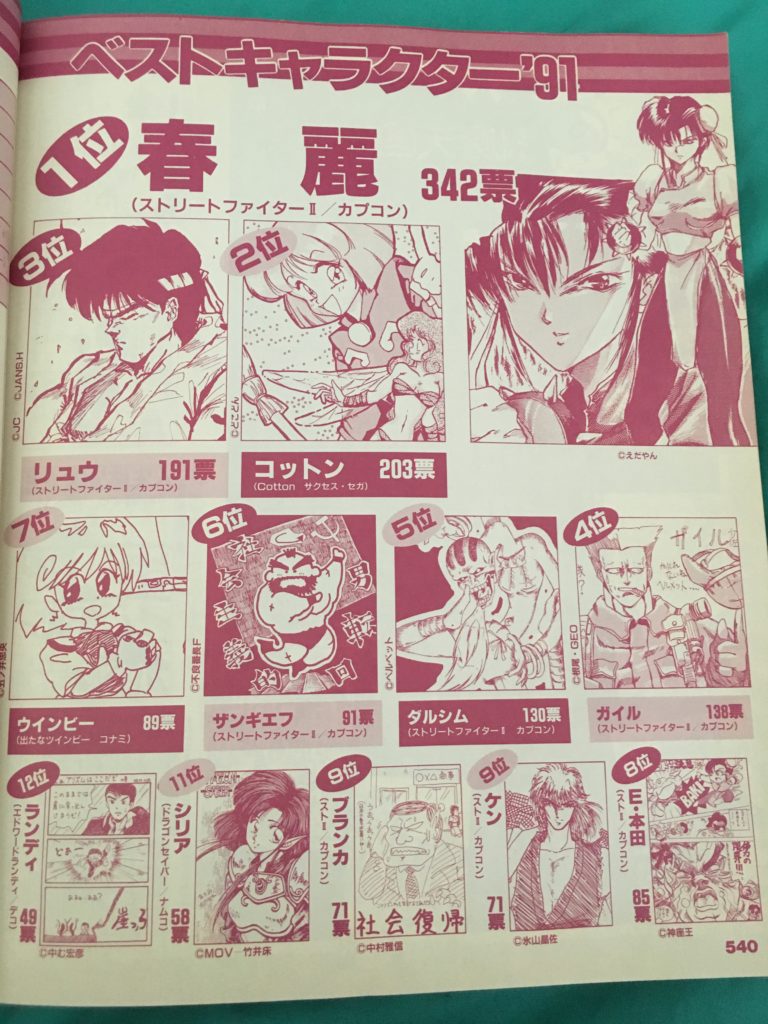 If you've been looking at the overall trends through the years, you probably have a solid guess.
Chun-Li
Cotton (Fantastic Night Dreams Cotton)
Ryu
Guile
Dhalsim
Zangief
Winbee (Deta na! Twinbee)
E. Honda
(tie) Ken, Blanka
As expected, it's a pretty Street Fighter-heavy list — and given the love shown in previous years for the women of arcade games, it's hardly a surprise that Chun Li took top honors. What is more surprising, though, is Cotton beating out Ryu – perhaps her fans were trying a rally to dethrone Chun-Li from the top spot? The only other non-Street Fighter character in the top ten is Winbee, another cute girl from a shooting game, which goes to show that while Street Fighter came in and dominated hard, there are still a few archetypes that the Japanese arcade gaming populace would flock to. (Interestingly, they call her Winbee while her canon name is Pastel — perhaps she didn't really have a name outside of her ship at this point.) Siria from Dragon Saber and Edward Randy from the game of the same name are slots 11 and 12, respectively.
Worth noting: five years prior, Athena won with 133 votes. This year, Chun-Li got 342. In fact, all four of the SF2 characters in the top five got 130 votes or more. Such was the power of Street Fighter II.
Going further down the list, we once again start getting into the "weird" entries – though not quite as many as in the previous year, there are a few amusing ones. M. Bison (the dictator, not the boxer) sits at 13th alongside the Roosters from 3 Wonders. The Simpsons as a family appear at 19th, just edging out Silk from Cotton at 21st and… Yuuyu from Yuuyu Quiz de Go! Go! at 24th. Also at 24th: Sonic the Hedgehog… no, not from the SegaSonic arcade game, but from Rad Mobile/Gale Racer, where he dangles from the top of your windshield like an air freshener.
The bikers from Chun-Li's background are at the 26th slot, where they're tied with the dragon from Death Blade and one other. The bikers are just one spot above Ken's girlfriend Eliza at 29th. Bomberman's at 32, though I'm hard-pressed to remember what exactly he was in that year for arcade games. At 36th are the titular Kids from Konami's obscure Escape Kids, one spot above Gungho from DD Crew. Gorbachev, who Japan long had a weird fascination with, pops his head in at 39th place (he was in SF2, remember?), tying with… Kato from Pit Fighter. Yes, Pit Fighter got Japanese distribution. They're a couple of votes above 46th place, where Garcia from Steel Gunner and the elephant from Runark/Growl are in a heated 4-way tie. Finishing out the list, we have the chicken from Chun-Li's stage, the ghost from Golly Ghost, the gay dude from Crime Fighters 2/Vendetta, "The girl doing the monkey dance on Guile's screen," and the King Who Hates Curry from Yuuyu Quiz de Go! Go!
Yeah, 1991 was quite the year.
Unfortunately, that's as far as the list in this tome goes – Gamest would run yearly polls like this until they eventually shuttered, so perhaps someday I shall hunt them down and give additional commentary. But until then, let's enjoy this unique little look into the fervent fandom of arcade gaming, and forever silently protest how hard Rika got robbed.