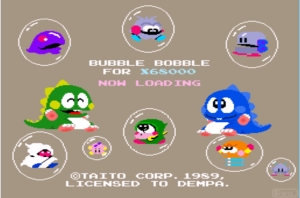 While consoles were the dominant forms of at-home gaming in Japan, proprietary personal computers were also quite popular amongst the more tech-inclined and older players (in other words, people who could afford them). Before Windows and MacOS became the standard systems most folks across the globe used, Japan had a whole mess of fragmented PC platforms from manufacturers like Sharp, Fujitsu, and NEC. I'm not going to pretend like I'm an expert on old Japanese PCs – it's an area of gaming I'm still actively learning about and researching, but when I find interesting things about the systems and the games they played host to, I definitely want to share.
One such thing involves the port of Bubble Bobble for the Sharp X68000, a platform that played host to both a lot of amazing arcade ports and original titles. Bubble Bobble is an example of the former, a practically arcade perfect transplant which had creator Fukio "MTJ" Mitsuji himself aiding in the port.
The porting team at DEMPA didn't stop there, however. With MTJ's aid, they added a hidden "expert mode" with 20 brand-new levels… and a facelift connected to one of MTJ's other titles.
Thus, Syvalion and Bubble Bobble had a beautiful crossover baby, and they named it…