I made my third guest appearance on Laser Time's Vidjagame Apocalypse podcast this week to talk about all manner of subjects. Since the show actually isn't live yet as of this writing, I'm going to try not to spoil too much, but at one point I start going off into the history of Compile and the Puyo Puyo puzzle game series. Puyo Puyo Tsuu/2 was a massive hit in Japan and still considered a pinnacle of the series by many, but it also marks the apex of Compile's meteoric, Puyo-fueled rise and fall into massive financial problems.
But that's not the focus of this little featurette, given that I babbled about it at length on the program. Instead, I'm here to talk about Puyo Puyo Tsuu's commercials; Specifically, a song that was used in them: Shakunetsu no Fire Dance ("Red-Hot Fire Dance").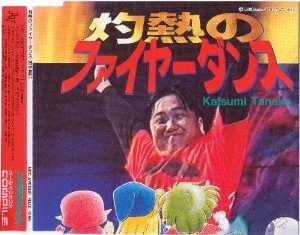 We're used to songs being used to promote products in North American television commercials, but usually it's stuff that's already established as familiar through months or years of airplay. Japan has a tendency to tie new songs and talent more directly to products, often launching singles to accompany a shiny new ad campaign for a product. This is beneficial to both parties involved: the product being advertised gets association with a potentially hot up-and-coming talent, and the artist/song get additional exposure as people remember the catchy song snippet that played on TV and think, "hey, I should seek out the whole thing!" (The commercials display the song title and artist name specifically to help people remember what they heard.) Games utilize this tie-in strategy fairly often. Just look at Final Fantasy as an example: All of the single-player installments since 8 have prominently featured a vocal song in Japanese advertisements and in-game.
Puyo Puyo 2's advertising hopped on the song tie-in bandwagon even earlier than Square did. They didn't look too far outside of the firm for composition and vocal talent, however – they enlisted Katsumi Tanaka, one of their in-house composers,1 to do the vocals for the song they would use to promote Puyo Puyo 2 in various ads (and sell as a CD single later on). The result is Shakunetsu no Fire Dance, an infectiously catchy little dance number that ranks among my favorite pieces of promotional game music.
Since commercials are so short, however, you could only hear the whole thing on CD, in music videos,  and in live show. Here's a  bonus video from the Saturn version of Puyo Puyo Tsuu featuring a (very heavily compressed) FMV of a live performance:
Even better: There are multiple language versions of the song! First off is the Korean version:
And guess what, there's an English version too! Turn on the Japanese comments on Nico to see the subtitles with the transcribed English lyrics – they're definitely off in that grammatically incorrect direct translation way, but at the same time, they actually do make sense. That's more than you can say for a lot of English versions of Japanese songs.
The song's legacy didn't end with ads and performances in the mid-90s, however: it also features as Arle's theme in Puyo Puyo Da!, the (rightfully) ignored dancing game spinoff of the Puyo series.
That's more than anyone else has written about this weird little footnote in Puyo history in English, I think. How about we wrap this up with a Vocaloid cover?
He composed the fantastic Musha Aleste soundtrack, among many other things! ↩