First off, I apologize for this review taking so long – I haven't been in the best of physical health this week, and that combined with the craziness of family obligations over the holiday weekend meant that I couldn't update the site as I wanted to. I'd intended to have this up around last Monday or so, but those plans came crashing down fairly quickly. I don't want to disappoint gaming.moe supporters with a lack of site content, but alas, sometimes real life foils even the best-laid plans. I'm working on a manner of contingency plan for the next time such a thing happens. Anyhow, on to the main piece!
A while back I wrote a piece for WIRED about the subsection of the Japanese doujinshi subculture that caters to gaming devotees. Part of the reason why doujin fascinates me so much is because of the sheer variety of stuff people create under the term, and the fact that there are other extremely passionate nerds self-publishing books about all manner of delightful gaming minutae makes me very happy indeed. I interviewed a publisher under the name Zekuu for the piece, as his circle, Game Area 51, does some of the most impressive and in-depth doujin publications on retrogames and important people involved with their creation. Thanks to his work, I've become more aware of the contributions of many creators to games and companies that have notable places in gaming history.
Such is the case with Zekuu's books about Shigeki Toyama, who has a lengthy history at Namco. I was mostly unfamiliar with Toyama's contributions to gaming, but the two volumes of doujin Zekuu published – two interview books and an artbook – have taught me a great deal about the man who designed Mappy, the iconic graphical imagery of Xevious, and several arcade cabinets and logos. He was also a robotics designer, helping create everything from small animatronics to massive amusement attractions (such as the gigantic Galaxian³ setup at the Osaka Expo in 1990). Later, he'd also be a key contributor to the design of Sony's AIBO robot dog. After learning so much about everything Toyama had helped create, I found myself filled with a profound respect for his incredible talent. (And, to be honest, I felt a little bit embarassed that I hadn't properly recognized it sooner.)
Out of the three books, I chose this one for review because it's largely art-based – and since I'm writing for a primarily English-speaking audience, it doesn't really do folks much good to recommend an interview book in Japanese. It's 242 pages long, B&W, and contains a truly astounding amount of design material for some of the coolest, most ambitious stuff that Namco ever produced. Without further ado, let's look over….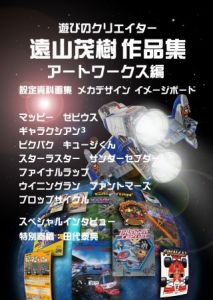 Shigeki Toyama Works: Artworks Volume (Toyama Shigeki Sakuhinshuu: Artworks Hen)
Cover image: A sampling of titles Toyama's talent has touched