Remember watching that Metal Gear Solid V: The Phantom Pain trailer that was unveiled at E3 2013? Do you remember first hearing those sweeping, powerful notes of the game's vocal theme, Sins of the Father? I bet you do. But how much do you know about the amazing voice behind that and the Peace Walker vocal theme, Heaven's Divide?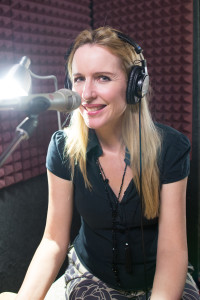 –
You might be surprised to find out that Donna Burke, the vocalist behind those two songs – and the voice of the in-game IDroid – has a very long and storied history doing English voices and musical work for numerous games from within Japan. Her list of previous projects includes numerous classics and fan favorites, and through her music and talent agency Dagmusic – which she owns and manages – she continues to provide the Japanese game industry with valuable voiceover and sound services.
I had the opportunity to talk with Donna about her past and previous work, how she came to Japan, what the English voiceover industry in Japan is like, all those different English accents, and – of course – those amazing Metal Gear songs. Read on!