Up until Nintendo graciously bestowed upon me a New 3DS XL (how's that for disclosure?), I had been playing the same aqua-blue system I'd owned since launch. Despite the temptation of numerous special-edition models and the XL version, I loved my little blue wonder and decided I was going to stick with it as long as I could. After going through something like five different models of the original DS/Lite/i, I wasn't going to spend extra cash on another 3DS unless I felt it was absolutely necessary.
Of course, when Nintendo announced the New 3DS and games that would run exclusively on said platform, I knew I'd have to wind up getting one eventually simply because I need to be able to keep up with potential work opportunities. Thankfully, Nintendo sent one my way so I wasn't forced to fight the throng of people attempting to preorder a (quite beautiful, I should note) Majora's Mask New 3DS system.
As much as I don't want to look a gift horse in the mouth, I'm among the folks who are quite displeased that the only North American New 3DS offering is of the XL variety. I was greatly looking forward to swapping out faceplates procured from abroad and colored Super Famicom-style buttons that proclaimed to the world "this isn't a mobile device, this is a specialized portable game machine!" Instead, I got a giant, boring black brick that looked just like every other piece of mobile kit I hauled around while commuting.
But it didn't take long to figure out how to improve it drastically.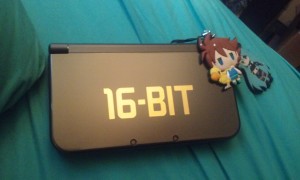 Now this is a 3DS for me.
Anyhow, I'm not here to brag, honest! I'm here to look at the New 3DS and give you my impressions so you can hopefully decide for yourself whether or not it's worth the scratch. Let's have a look!