Well, so far my most anticipated Vita releases for 2015 have (mostly) been serious disappointments.1 First there was Persona 4 Dancing All Night and its numerous issues, and now we have Corpse Party: Blood Drive, a follow-up to the superb (and very under-the-radar) PSP horror title Corpse Party. Unfortunately, Corpse Party: Blood Drive is most certainly not superb. Quite far from it, actually.
Let's look back at the original game for a moment. Corpse Party was a horror-themed adventure game that began life as an RPG Maker project on the Japanese PC-98 computer, and eventually wound up on the PSP after numerous remakes and revisions. It's the story of a group of students (and a teacher) who wind up trapped in the abandoned, cursed Heavenly Host Elementary after performing what they think is a harmless friendship ritual, but is actually a rite to enter an evil alternate dimension. Heavenly Host is a long-abandoned school that was the site of numerous horrific happenings, filled with numerous tortured souls who want nothing but to inflict their pain and suffering on others in the most agonizing ways possible. Its roots as an RPG Maker game were obvious in the visuals, which consisted of 2D sprite graphics and top-down environments, as well as its simple interactions, which made it more of a 2D horror adventure game than a "survival horror" experience.
Corpse Party was unusual in many ways, but it worked wonderfully as a horror game: the sprite visuals were incredibly unsettling once the awfulness of Heavenly Host began to set in, the sound design and voice acting was nothing short of amazing (listening to characters' death throes is nothing short of terrifying), and the technical/engine limitations meant that most of the game's scariest scenes were told through only text and sound – making them even more effective than if they were purely visual. (You can only see so much hyper-detailed viscera before it loses its impact, but detailed descriptions and sounds of pain and suffering can be absolutely brutal.) The characters were engaging, and they interacted quite well with each other, revealing lots of weird and unique little personality quirks (some far more disturbing than others).
That's a brief summary. If you want a more detailed review of the original Corpse Party, I shall point you in the direction of friend-of-the-site Gaming Hell!
Anyhow, despite being a PSP exclusive, the game seemed to do well for publisher XSEED – in fact, we wound up getting a collection of side stories (and a brief prologue to Blood Drive) in the 2012 release of Corpse Party: Book of Shadows, which took the game even further into adventure game/visual novel territory. Some folks found it disappointing, but I enjoyed seeing more about the characters and setting of the game as revealed through its various vignettes.
So how does Corpse Party: Blood Drive manage to screw up such a good thing? Oh boy, where to begin…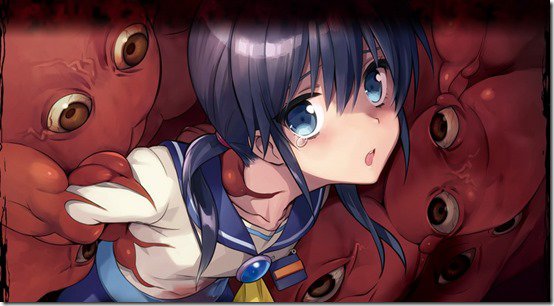 Ultra Despair Girls was riveting, though certainly janky at points, so at least there's that. ↩